Daily & weekend masses in the CHURCH with 25% of our maximum occupancy and overflow in the hall.
Daily masses Tues-Fri 9:00am – bi-lingual
Weekend Masses – Saturday 5:00pm in English, 7:00pm in Spanish; Sunday 9:00 in English, 12:30 in Spanish.
Sunday masses to be livestreamed on Facebook.
Confessions:
By appointment any day except Monday
OFFICE HOURS:
MONDAY
10:00am – 4:00pm
TUESDAY – FRIDAY
9:30am – 4:30 pm
CLOSED FOR LUNCH 12:00pm – 1:00pm
CLOSED SATURDAY, SUNDAY AND HOLIDAYS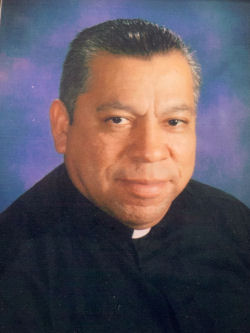 Fr. Carlos Ortega, Pastor
"I am the ever-virgin Mary, Mother of the true God who gives life and maintains its existence. He creates all things. He is in all places. He is the God of Heaven and Earth. I desire a church in this place where your people may experience my compassion. All those who sincerely ask my help  in their work and in their sorrows will know my Mother's Heart in this place. Here I will see their tears; I will console them and they will be at peace. Call me and call my image Santa Maria de Guadalupe."
ANNOUNCEMENTS
The Madonna Sodality are now accepting applications for their annual scholarships.  The deadline to apply is March 23, 2021.  This scholarship is available to any 2021 high school graduate or continuing college student.  See application for further details.  The Madonna Sodality encourages all eligible students from our parish to apply for this $500 scholarship.   Please click on the following link or contact the church office 707-837-8962 for an application.
If you are not able to attend mass, please remember to continue supporting your parish financially. There are a few options.  You can mail in your contributions, you can drop it off in the parish office Monday – Friday, or we also have a pay pal account and this is the link –https://www.paypal.com/paypalme/OurLadyofGuadalupe